Eddie Hall Has His Own Documentary On Netflix!
Eddie or Edward Hall was born on the 15th of January 1988.
He is a known as the English Professional Strongman who has a lot of records under his belt.
Deadlifting 1,102lb's breaking a world record made him the only man in the world to deadlift that much.
Several other titles were secured by him as well throughout his power lifting and strength competitions.
But have you ever wondered what its like to see through the eyes of a strongman?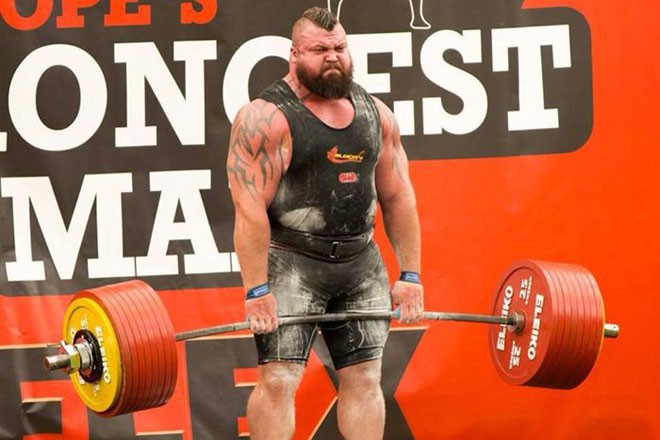 Well there is documentary that was put on Netflix recently revealing exactly what it like to be the worlds strongest man; Eddie Hall.
The main focus of the documentary is Eddie Hall and it covers just how much intensity is require through training and nutrition.
Here Is A Few Statistics About Eddie Hall:
Eddies weights 406lbs and stands at a height of 6'3″.
He has to eat a lot of calories throughout the day, 10,000 calories to be exact.
The reason for this is because he needs as much nutrition as possible in order to fuel his training and his muscles.
Check out "The Mountain From Game Of Thrones Diet!"
During his documentary, Eddie talks about his obsession with becoming the World's Strongest Man.
A great deal of the documentary takes you into his day to day life where his workout routine and eating are large components.
It covers what kinds of choices he made in order to become the World's Strongest Man.
However the real motivation of the documentary comes from when Eddie talks about how he became extremely obsessed with strength building
The constant drive to become a stronger version of himself.
He says:
"Unless someone tells me to stop or I die, I will be the world's strongest man."

– Eddie Hall
This statement definitely shows how much love and passion he has for this sport.
We admire the countless hours he put into becoming what he is now.
It is not easy achieving the strength he has and it requires A LOT of food and rigorous training in the gym.
Deadlifting 1,102lbs may be his most incredible achievement but he has also achieved other amazing lifts.
There are several videos on the Internet that will shock you by the amount of weight Eddie can lift.
In fact 2016 has been an amazing year for Eddie because of his record breaking lifts.
"Most of the people usually have the idea that strongmen are not bright, but I have always been amazed by how intelligent and successful my competitors are. A lot of them own big businesses and good jobs. For me, there is a reputation that comes with being strong and big, however; we all work really hard to get to this level," said Hall.
If you have a Netflix account we strongly recommend watching this documentary.
Check Out The Documentary Trailer Below!